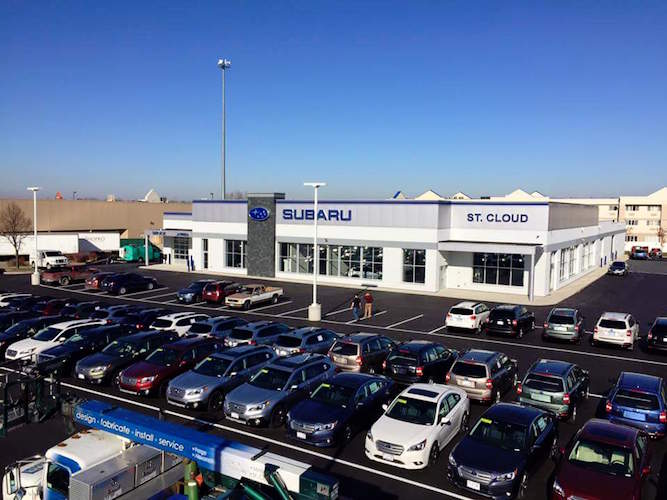 Dear Customers,

Hi, my name is Scott Bement and I am the owner of St. Cloud Subaru. Many years ago, back in the 1930's, my Grandfather started a small Dealership in Waubun, MN.  Eventually my father and uncle took over the store, so naturally I spent many of my younger years working for them pumping gas, detailing cars, you name it, I did it. It became my dream to one day run a dealership of my own. So began what seemed like a lifetime of hard-work and determination.  Seven years ago I decided it was time. So my wife, my two children and I made the decision to pack up, come to St. Cloud and pursue my dream of owning a Dealership. More importantly a Subaru Dealership. So was born St. Cloud Subaru.  A Dealership made possible by the people. Made possible by our salesman, our managers, our finance team, our office staff, our service department and everyone here. But most importantly, made possible by You. Our wonderful customers. 
Now in Saint Cloud, MN, is your premier retailer of new and used Subaru vehicles. Our dedicated sales staff and top-trained technicians are here to make your auto shopping experience fun, easy, and advantageous. Please utilize our various online resources and allow our excellent network of people to put you in your ideal Subaru vehicle or the pre-owned car, truck, or SUV of your dreams today!  St Cloud Subaru, Minneapolis's fastest growing Subaru dealership. St. Cloud the new north metro.
Thank you for being a part of our Subaru Family,
Scott Bement
St. Cloud Subaru is the Only Place to Go for Subaru Drivers near St. Cloud, Sauk Rapids, MN, Sartell, MN, Waite Park, MN and St. Joseph, MN
Here at St. Cloud Subaru, we know that you can visit any number of dealerships when shopping for a new car. That's why we always make sure go above and beyond for our loyal customers throughout St. Cloud, Sauk Rapids, Sartell, Waite Park and St. Joseph, MN. It's our world class customer service that helps us earn your business time and again while serving your driving needs!
It all starts with our attractive selection of new Subaru cars including Subaru Impreza, Subaru Outback, Subaru Forester, Subaru Legacy, Subaru Crosstrek  and beyond! Take the wheel to see our new cars are defined by a stellar safety record, long-lasting dependability and unmatched quality. If you're driving on a budget, then take a look at a used car to save cash on your next car.
Whatever your preference may be, you'll have no trouble finding an affordable car that brings joy to your daily drive!
Learn More about the Auto Services Available to Drivers in St. Cloud, Sauk Rapids, MN, Sartell, MN, Waite Park, MN and St. Joseph, MN
It's not just about helping you select a new or used car here at St. Cloud Subaru. Our auto finance center also works to ensure that you take advantage of a lease or loan solution that fits squarely into your budget. That gives you the chance to enjoy a great deal on a high-quality new or used car.
We strive to ensure that your car maintains its original quality for thousands of miles. Don't hesitate to visit our service and parts centers for auto maintenance and repairs near St. Cloud, Sauk Rapids, Sartell, Waite Park and St. Joseph. MN. You'll always find peace of mind with our factory-trained technicians working on your new or used car. It's all part of our desire to help you make the most of every drive in your new Subaru or used car. If there's any way we can improve your ownership experience, please give us call or stop by St. Cloud Subaru in St. Cloud today!