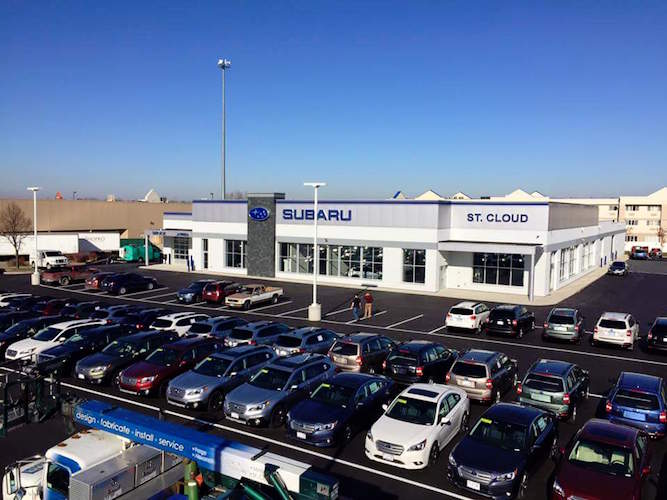 Dear Customers,

Hi, my name is Scott Bement and I am the owner of St. Cloud Subaru. Many years ago, back in the 1930's, my Grandfather started a small Dealership in Waubun, MN.  Eventually my father and uncle took over the store, so naturally I spent many of my younger years working for them pumping gas, detailing cars, you name it, I did it. It became my dream to one day run a dealership of my own. So began what seemed like a lifetime of hard-work and determination.  Seven years ago I decided it was time. So my wife, my two children and I made the decision to pack up, come to St. Cloud and pursue my dream of owning a Dealership. More importantly a Subaru Dealership. So was born St. Cloud Subaru.  A Dealership made possible by the people. Made possible by our salesman, our managers, our finance team, our office staff, our service department and everyone here. But most importantly, made possible by You. Our wonderful customers. 
Now in Saint Cloud, MN, is your premier retailer of new and used Subaru vehicles. Our dedicated sales staff and top-trained technicians are here to make your auto shopping experience fun, easy, and advantageous. Please utilize our various online resources and allow our excellent network of people to put you in your ideal Subaru vehicle or the pre-owned car, truck, or SUV of your dreams today!  St Cloud Subaru, Minneapolis's fastest growing Subaru dealership. St. Cloud the new north metro.
Thank you for being a part of our Subaru Family,
Scott Bement


About St. Cloud Subaru - Your St Cloud Subaru Dealer
At St. Cloud Subaru, we offer new Subaru cars in St Cloud, along with used cars, trucks and SUVs by top manufacturers. Our sales staff will help you find that new or used car you have been searching for in St Cloud.
For years, our financial staff at St. Cloud Subaru has offered expert advice for those seeking a great Subaru car loan or lease. Our service doesn't stop there. St Cloud customers can come in and take advantage of our knowledgeable Subaru car repair technicians and a fully-stocked inventory of Subaru car parts.
You can reach St. Cloud Subaru any time by filling out our contact form, by calling us or simply visiting our St Cloud Subaru dealership at 141 Park Ave S, Saint Cloud, MN 56301.